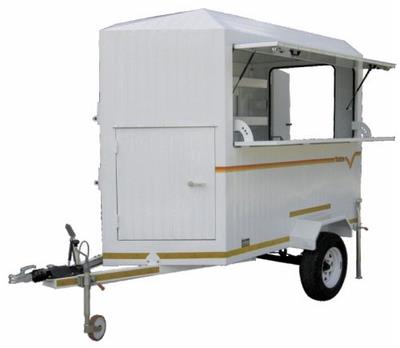 | | |
| --- | --- |
| Back left view open | Front view open |
| View through open hatch | Front gas storage compartment |
| Interior view 1 | Under counter storage |
| Interior view 2 | Open cabinet |
| Interior view 3 | Retractable step |
| Roof air vents open | Fluorescent interior light |
| Serving hatch mechanisms | Spare wheel holder and caravan plug |
| Retractable step stored position (optional) | Retractable step extended position (optional) |
Custom Kiosk 7ft
This is an ideal vending solution for entrepreneurs, who need to provide a specific product and service offering to customers. 
Entrepreneurs equip the trailer for many different purposes such as a Mobile Coffee Kiosk, Pancake Kiosk, and other Fastfood retailing. Venter Manufacturing does custom internal infrastructure to suit the particular application.
The trailer has a large and spacious interior that can easily accommodate equipment and goods, and two operators.
Features
• Roof height allows for full-height standing room.
• Floor space sufficient to accommodate fridge and/or freezer
• Floor is manufactured from quality corrosion resistant steel
• Body made from corrosion resistant steel
• Secure lockable serving hatch
• Serving hatch with top half as an awning and bottom as a counter top
• 4 x roof-mounted spring-loaded air vents for increased ventilation 
• Internal overhead light is provided for illuminating the interior
• Storage tray-shelves provided inside at the front and right side
• Pad-lockable ventilated nosecone compartment isolated from the rest of the vehicle
• 2 x spring-loaded air vents in the nosecone compartment for increased ventilation
• Gas bottle securing bracket in the nosecone for 2x19kg gas bottles
• Three heavy-duty adjustable support legs on trailer rear corners and A-frame for stabilizing on uneven ground
• Retractable and lockable access step for easy entry through rear door
• Optional retracting spring-loaded step 200kg maximum load
• Pad-lockable rear access door
• New adjustable 200mm double polypropylene and PVC jockey wheel
• Multi-function LED lights
• Pad-lockable spare wheel bracket mounted on right side mudguard
• Galvanised 'Sigma Auto-reverse type' coupler
• Run-in brakes
• Caravan plug outlet for power supply on right back side of trailer
• 14 inch 6 stud wheels
• One spare wheel
• Floor covered with nonslip surface for easy cleaning
• Cool Box-insulation clad steel storage box, with a capacity of 230 litres. (over 180 x 340ml soft drink cans plus ice-packs)
• Optional electrical switchboard
(Note: Custom equipment to customer's requirements and cost – not included)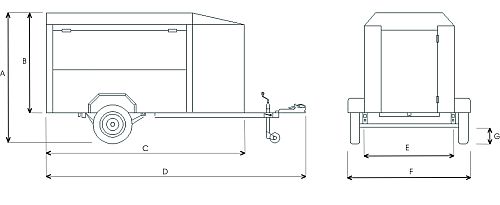 Dimensions
A
Height (over all)
2585 mm
B
Height (side)
2085 mm
C
Length (body)
2790 mm
D
Length (over all)
3205 mm
E
Width (inside)
1530 mm
F
Width (over all)
2000 mm
G
Ground Clearance
220 mm
Technical Info
Tare Mass
510 kg
GVM
1100 kg
Pay Load
590 kg
Brakes
Braked
Axle Length
1830 mm
Axle Capacity
1800 kg
Leaf Springs
10 Blade
Wheels
195 x 14 inch
Doors
Door (rear – height)
1760 mm
Door (rear – width)
860 mm
Serving Hatch (height)
840 mm
Serving Hatch (width)
2205 mm
Subject to our general terms and conditions of supply and delivery. Technical data, pricing, dimensions, and weights are subject to change, due to a policy of continual product development. The illustrations are for reference only. Dimensions are in millimetres. Venter Trailers reserves the right to alter design and specifications without prior notice.