Modular trailer with rails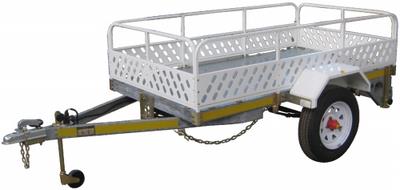 | | |
| --- | --- |
| Back view support legs down | Back view open |
| Front view support legs down | Back view closed |
| Toggle latch | Tailgate hinge |
| Front rail detail | Front rail bracket |
| Side rail bracket | Rear numberplate and light panel |
| Rear light detail | Coupler and jockey wheel |
| Spare wheel bracket | Support leg up |
| Support leg down | tie-down rings |
Modular Multi-purpose Trailer with Rails
This multi-purpose trailer can be configured for varied purposes. Various elements can be added to this basic version customising the trailer for different transport purposes.
This version of the trailer is suited to carrying general items. that need to be contained by the side rails. Typical goods in boxes, and loose items can be securely tied-down by way of tie-down rings and the side rails.
Features 
• All chassis A-frame and platform parts galvanised
• Flat galvanised sheet floor base 2065 x 1140
• Fixed side and front rails, with a hinged rear tailgate
• Two rear adjustable support legs
• New adjustable jockey wheel 6 inch
• 20 x tie-down rings fixed to floor
• White powder-coated rear light panel for numberplate and reflectors
• Two white powder-coated mudguards
• Safety chain for tow-hitch
• Brake chain
• Plated Alko coupler
• One spare wheel 155×13 inch
• DIY version packs into case 2230 x 750 x 420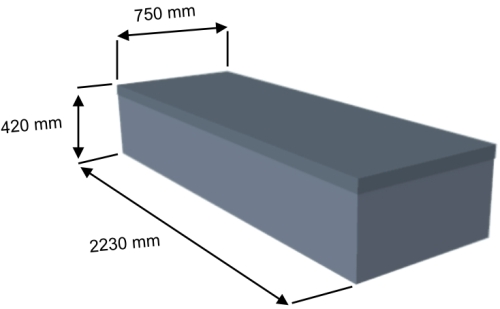 Dimensions
A
Height (over all)
1090 mm
B
Height (side)
620 mm
C
Length (body)
2080 mm
D
Length (over all)
3110 mm
E
Width (inside)
1140 mm
F
Width (over all)
1640 mm
G
Ground Clearance
250 mm
Technical Info
Tare Mass
200 kg
GVM
700 kg
Pay Load
500 kg
Brakes
No Brakes
Axle Length
1400 mm
Axle Capacity
700 kg
Leaf Springs
6 Blade 36 inch
Subject to our general terms and conditions of supply and delivery. Technical data, pricing, dimensions, and weights are subject to change, due to a policy of continual product development. The illustrations are for reference only. Dimensions are in millimetres. Venter Trailers reserves the right to alter design and specifications without prior notice.