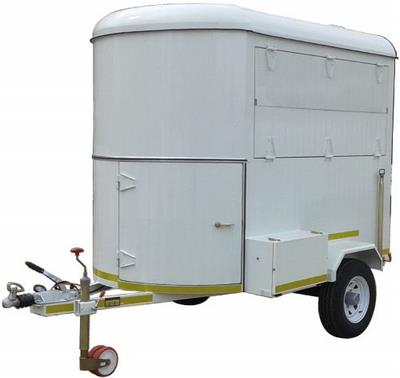 | | |
| --- | --- |
| Front left view open | Back left view open |
| Front right view open | Back left view closed |
| Back right view open | Back interior view |
| Interior view | Interior view |
| Interior light switches | Interior light and vents |
| Gas lifts on hatch doors | Hatch door mechanism |
| mains outlets left side | mains outlets right side |
| Back door window mesh | Back door window |
| Lockable box | Spare wheel holder in compartment |
| Adjustable support leg | Jockey wheel and coupler |
| Numberplate and light | Retractable step stowed away |
| Retractable step open and locked | Wheel showing dust cap |
| Storage cabinet lid supported | Storage cabinet lid down |
For vendors who need to sell products at remote public places, this trailer provides many practical and essential features. The trailer interior can be equipped and fitted out, to suit many types of trading activity that the entrepreneur wishes to do.
Features 
• Roof height allows for full-height standing room.
• Floor space sufficient to accommodate fridge and/or freezer
• Floor is manufactured from quality corrosion resistant sheet steel
• Body made from corrosion resistant steel
• Double secure lockable serving hatches on left and right sides
• Hatches with top half an awning and bottom a counter top
• 4x spring-loaded roof hatches for increased ventilation 
• Internal overhead light is provided for illuminating the counter and interior
• Storage tray-shelves provided in nosecone
• One sliding window in back access door for increased ventilation
• Burglarproofing mesh on rear window provides essential security
• Two adjustable support legs on trailer rear corners for stabilizing on uneven ground
• Retractable and lockable access step for easy entry through rear door
• Pad-lockable rear access door
• New adjustable polypropylene and PVC jockey wheel
• Multi-function LED lights 
• Two pad-lockable general-purpose enclosures mounted ahead of the mudguards
• Coupler 'Sigma Auto-reverse type'
• Run-in brakes
• Caravan plug outlet for power supply on right back side of trailer
• 14 inch 5 stud wheels
• Floor covered with nonslip surface for easy cleaning
• Pad-lockable nosecone compartment which is well-ventilated
• Nosecone compartment equipped with spare wheel holder and spare wheel
• Space to accommodate and secure 1x19kg gas bottle
• The trailer has a design registration No. F2004/0491, since 15 April 2004. Copyright also applies in respect of the trailer.
Dimensions
A
Height (over all)
2570 mm
B
Height (side)
2080 mm
C
Length (body)
2660 mm
D
Length (over all)
3690 mm
E
Width (inside)
1525 mm
F
Width (over all)
2025 mm
G
Ground Clearance
250 mm
Technical Info
Tare Mass
510 kg
GVM
1400 kg
Pay Load
890 kg
Brakes
Run-in
Axle Length
1830 mm
Axle Capacity
1800 kg
Leaf Springs
10 Blade 36 inch
Wheels
185 x 14 inch
Doors
Serving Hatch (width)
1865 mm
Subject to our general terms and conditions of supply and delivery. Technical data, pricing, dimensions, and weights are subject to change, due to a policy of continual product development. The illustrations are for reference only. Dimensions are in millimetres. Venter Trailers reserves the right to alter design and specifications without prior notice.