Traveller 10 Sputnik Tandem (braked)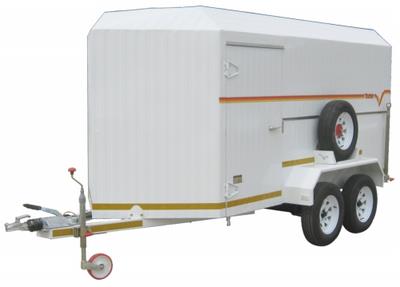 | | |
| --- | --- |
| Back view | Back view open |
| Spare wheel holder | Adjustable support leg |
| Jockey wheel and coupler | Multi-function LED light |
Features:
Designed for transportation of luggage, bulky goods, plants, sport equipment, parcels etc.
• Body and roof constructed from 0.9mm corrosion resistant electro-galvanised sheet steel.
• Doors are pad-lockable and can be found at the left side and the back of the trailer for easy loading.
• All doors are pad-lockable and equipped with new heavy-duty hinges for robust usage
• Sides are strengthened by formed hat-sections which prevents drumming and vibration.
• Two adjustable extending supporting back legs to provide levelling and stability when parked on uneven ground
• 7x ring holders to tighten luggage
• Multi-function LED lights
• Heavy-duty coupler
• Spare Wheel holder which is pad-lockable
• Fitted with run-in brakes for maximum safety
• Fitted with 2 Rubax axles.
• Adjustable durable jockey wheel 8 inch
• Including spare wheel 165×13 inch

Dimensions
A
Height (over all)
2060 mm
B
Height (side)
1660 mm
C
Length (body)
3610 mm
D
Length (over all)
4540 mm
E
Width (inside)
1525 mm
F
Width (over all)
2045 mm
G
Ground Clearance
280 mm
Technical Info
Tare Mass
740 kg
GVM
1740 kg
Pay Load
1000 kg
Brakes
Run – in
Axle Length
1890 mm
Axle Capacity
1500 kg X 2
Leaf Springs
Rubax Axle
Wheels
165 x 13 inch
Doors
Door (rear – height)
1330 mm
Door (rear – width)
1050 mm
Door (side – height)
1280 mm
Door (side – width)
730 mm
Subject to our general terms and conditions of supply and delivery. Technical data, pricing, dimensions, and weights are subject to change, due to a policy of continual product development. The illustrations are for reference only. Dimensions are in millimetres. Venter Trailers reserves the right to alter design and specifications without prior notice.