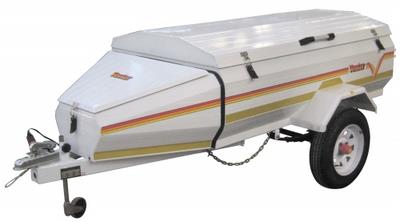 Back view closed

Back view open

Couple with plug holder

New toggle catch detail

6 blade leaf springs

Bump stop on axle

Lid hinges

Tie-down rings

Two gas lifts on lid

Two numberplate lights

Aluminium lid handle

Optional cycle rack (see link on page)

Optional carpets for trailer and nosecone

Optional trailer vertical storage stand

Luggage trailer vertical storage stand

Chassis showing structure

Luggage trailer on stand height
With cars scaling down in size for economy and versatility, it is becoming more and more apparent to holiday goers or anyone just wanting to transport items, that an alternative source of space needs to be found. Well, it already has been, in the form of Venter Luggage trailers.
What would you expect from a trailer that has been part of the South African travel landscape for so long? Well, to be such a survivor you'd probably imagine that the trailer would be high quality, have tasteful, constant design and be as versatile as you need it to be. Well, with a Venter trailer you certainly wouldn't be wrong. 
This trailer is a veritable workhorse that can be utilized for multiple purposes. The unique design and robustness and its high standards of quality and reliability have been developed and perfected over a period of many years. And boy, does it show. 
Constructed from quality corrosion resistant, electro and zinc galvanised sheet steel, the rigid body is both safe and well balanced, maintaining perfect alignment behind the towing vehicle. What's more, only top class, proven materials and parts are used. And with dealerships nationwide, quality service and authentic spares are guaranteed. It's this kind of reliability and quality that has ensured very high resale values.
Features
• One spare wheel 155 x 13"
• Nosecone with new toggle catch
• 8 tie-down ring holders to tighten luggage
• Number plate twin light fitting
• Alko coupler with plug holder
• Long life special axle with larger bearings
• 6 blade leaf spring
• Two gas lifts on trailer lid
• New toggle catch on lid
• Aluminium handle on lid
• Bumpstops on axle