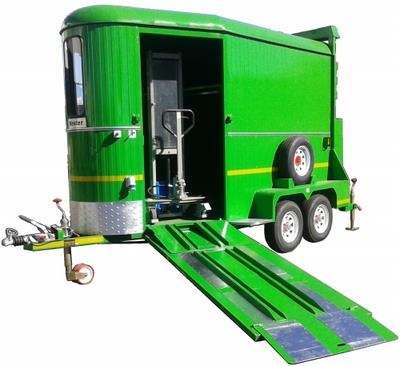 | | |
| --- | --- |
| Back view ramp lowering | Side ramp down |
| Rear platform lowered | Side ramp down gate/ramp closed |
| Front view closed | Front hydraulic system compartment |
| Front ramp hydraulic controls | Rear platform controls |
Big Green Custom Trailer
Venter Manufacturing has developed a unique solution for a client in the promotional industry. The project required a trailer, based on the Royal Horsebox, to accommodate a large digital kiosk, battery-powered hydraulic equipment, as well as a battery-powered mini forklift. Additionally the access to the trailer for the forklift required modifications to the rear and side ramps.
The ramp opening operations for storing and removing the kiosk needed to be hydraulic-assisted for one person to do. Both the front and side ramps employ the hydraulic system to lower and raise the front ramp and the rear platform. In order to maximise available storage space, the hydraulic system was installed in the front nosecone area.
Features
• Front nose sports a new streamlined shape reducing wind resistance
• Large lockable rear door fitted above ramp, opening 270 deg
• Robust chassis, A-Frame and floor plates
• Two large windows, one door window is fitted with open/close sliding facility
• Rear platform that lowers to ground level
• Rear platform has locking mechanism for securing pivoting rear platform
• Hydraulic facility for lowering and raising the rear platform
• Side ramp with hydraulic facility, with gas lift assisted lowering and raising
• Front compartment with hinged door for hydraulic system
• Storage area for mini-forklift at front of trailer
• Side gate/ramp above the side ramp which lowers to become initial ramp for foklift
• Both rear platform and side ramp have extension ramps for easier loading
• Lockable, easily accessible spare wheel holder, fitted on top of modern improved mudguard
• Spare wheel 195 x 14 inch
• Double jockey wheel 200mm dia
• All doors have stainless steel bullet hinges and ramp has padlockable facilities
• Eight robust recessed sprung tie-down rings in floor
• Alko-Trailco coupler and axles
• Body constructed from corrosion resistant rigidised zinc galvanised or 
Electro-galvanised steel, prime coated and quality green final paint is applied
• Convenient lockable front door on right for access
• The trailer has a design registration No. F2004/0491, since 15 April 2004. Copyright also applies in respect of the trailer.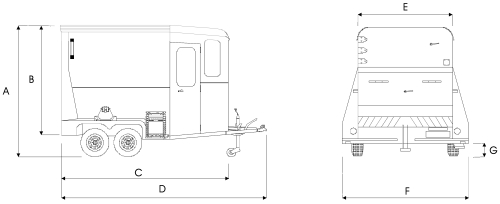 Dimensions
A
Height (over all)
2900 mm
C
Length (body)
3825 mm
D
Length (over all)
5000 mm
E
Width (inside)
1730 mm
F
Width (over all)
2380 mm
G
Ground Clearance
310 mm
B
Height (body)
2300 mm
Technical Info
Tare Mass
1240 kg
GVM
3200 kg
Pay Load
1960 kg
Brakes
Run-in brakes
Axle Length
2165 mm
Axle Capacity
1800 kg x 2
Leaf Springs
Rubber suspension
Wheels
195 x 14 inch
Doors
Ramp (rear – height)
1450 mm
Ramp (rear – width)
1805 mm
Ramp (front – height)
2175 mm
Ramp (front – width)
1060 mm
Door (front – height)
1900 mm
Door (front – width)
650 mm
Subject to our general terms and conditions of supply and delivery. Technical data, pricing, dimensions, and weights are subject to change, due to a policy of continual product development. The illustrations are for reference only. Dimensions are in millimetres. Venter Trailers reserves the right to alter design and specifications without prior notice.