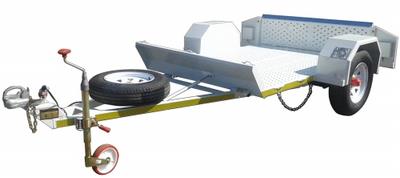 | | |
| --- | --- |
| Back left view closed | Back left view tilted |
| Back view | Mudguard and licence holder |
| Coupler and jockey wheel | Plug holder and galvanised coupler |
| Gas-lift assisted tipping action | Locking bolt for tipper action |
This Quad Bike Trailer features the following:
1. Perfectly balanced, yet light weight and durable
2. Lugs on sides to secure bikes in transit
3. Bikes can be loaded from the rear, trailer tips
4. Gas-lift assisted tipping action
5. Sprung securing bolt keeps trailer horizontal until released
6. Gas-lift assisted tipping action comes int play on release of sprung bolt
7. Two solid trailer support legs at the rear for stabilising in tipped position
8. Hinged rear ramp for providing easy access for quad bike to drive onto trailer
9. Hinged rear ramp secured by anti-loose fasteners
10. Solid steel floor with raised perforations for grip and drainage
11. Fitted with a lockable galvanised-dipped coupler (lock optional)
12. Equipped with a handbrake chain
13. Plug holder for electrical connection plug mounted on coupler
14. Adjustable robust 6-inch jockey wheel
15. multi-function LED tailights with triangle reflectors on rear panels
16. Licence holder fitted to mudguard
17. Numberplate holder and numberplate light fitted to rear recess of pivoting ramp
18. Spare wheel holder with spare wheel 165×13 inch mounted on front A-frame
19. Fitted with a Rubax axle
20. Brake chain provided for parking the trailer

Dimensions
A
Height (over all)
640 mm
B
Height (side)
200 mm
C
Length (body)
1970 mm
D
Length (over all)
3190 mm
E
Width (inside)
1310 mm
F
Width (over all)
1800 mm
G
Ground Clearance
220 mm
Technical Info
Tare Mass
200 kg
GVM
700 kg
Pay Load
500 kg
Brakes
No brakes
Axle Length
1610 mm
Axle Capacity
750 kg
Leaf Springs
Rubber axle
Wheels
165 x 13 inch
Subject to our general terms and conditions of supply and delivery. Technical data, pricing, dimensions, and weights are subject to change, due to a policy of continual product development. The illustrations are for reference only. Dimensions are in millimetres. Venter Trailers reserves the right to alter design and specifications without prior notice.