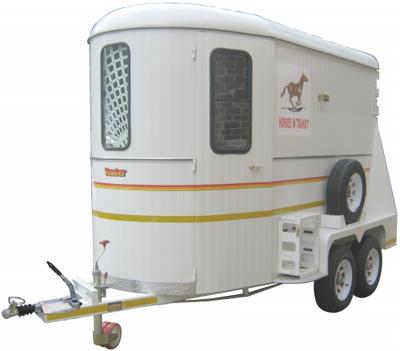 | | |
| --- | --- |
| Back left view | Back left view open |
| Padded lockable rear panels | back |
| Beds folded up | Beds folded down |
| Adjustable breast bar and dividers | Inside back door lock |
| Close-up of back door lock | Roof air vents |
| Front window safety grid | Sliding door window |
| Jerry can holder | Spare wheel holder |
| Rear door with hinges | Tether ring |
| Galvanised coupler and jockey wheel | Opening top stable doors |
| Reaching for back stable doors | Rear step |
| Back ramp gas lift | Grab handle for reaching back door handle |
| Opening back ramp | Ramp open |
| Rubber flooring on ramp | Storage cabinets and seat (from May 2015) |
| Storage cabinets open (from May 2015) | Storage cabinets with seat (from May 2015) |
| Rear stable doors bolt | Removable rear stable doors |
This trend setting vehicle is aesthetic, modern, aerodynamic and glides like a dream.
Features
• Front nose sports a new streamlined shape reducing wind resistance
• Improved ramp, fitted with double gaslifts and push-down foot pedal, for easier opening
• Jerry can holder
• Large lockable rear door fitted above ramp, opening 270 deg
• Robust chassis, A-Frame and floor plates
• Three large windows, middle one protected by a sheet steel screen, two outside windows are fitted with open/close sliding facility
• Two air vents fitted on the roof of the trailer
• Lockable, easily accessible spare wheel holder, fitted on top of modern improved mudguards
• Double jockey wheel 200mm dia
• Heavy duty rubber floor mats
• All doors and ramp have padlockable facilities
• Alko-Trailco coupler and axles
• Partition between horses of modern designed perforated steel screen, allowing horses to see each other and gain confidence
• Left and right insides of padded vinyl covered panels, fitted with fold-away beds
• Adjustable padded breast bars and rear padded panels to ensure safety of horses in transit
• Front storage compartment for fodder, grooming bags etc
• Body constructed from corrosion resistant rigidised zinc galvanised or 
Electro-galvanised steel, prime coated and quality white final paint is applied
• Convenient front door for groom
• Including spare wheel 195×14 inch
• The trailer has a design registration No. F2004/0491, since 15 April 2004. Copyright also applies in respect of the trailer.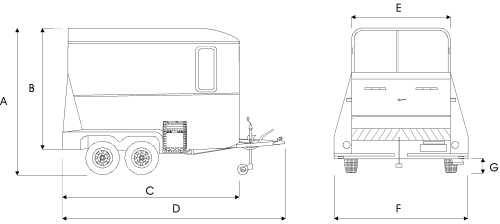 Dimensions
A
Height (over all)
2730 mm
C
Length (body)
3370 mm
D
Length (over all)
4695 mm
E
Width (inside)
1620 mm
F
Width (over all)
2250 mm
G
Ground Clearance
310 mm
B
Height (body)
2160 mm
Technical Info
Tare Mass
1180 kg
GVM
2800 kg
Pay Load
1620 kg
Brakes
Run-in brakes
Axle Length
2060 mm
Axle Capacity
1800 kg x 2
Leaf Springs
Rubber suspension
Wheels
195 x 14 inch
Doors
Ramp (rear – height)
1450 mm
Ramp (rear – width)
1690 mm
Door (front – height)
1900 mm
Door (front – width)
675 mm
Door (side – height)
1900 mm